On May 15, 2014 Vermont Makers will present at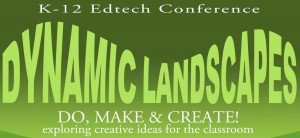 Do, Make and Create!
Exploring Creative Ideas for the Classroom
The 15th Annual VITA-Learn and VSLA Ed Tech Conference!
For and by Teachers, Librarians, Administrators and Technology
Specialists.  At Champlain College, Burlington, VT. 
Vermont Makers sessions include: 
Spark a Culture of Innovation: Making-it in Your Community
Register and Learn More
Come and see what the kids will be making and learning this summer!
A grant from the Vermont Community Foundation was awarded for children and teens in Vermont's public libraries to support this summer's Collaborative Summer Library Program theme, Science.
From Space Suits to High Fashion: A Hands-on Introduction to E-textiles
Register and Learn More
The emerging field of e-textiles is exciting, fun, beautiful and overflowing with opportunities for innovation. E-textiles are articles of clothing, home furnishings, or architecture that include embedded computational and electronic elements (Berzowska 2005). They are also found in smart military uniforms, sportswear that monitors health indicators and portable medical devices.

Check out both Vermont Makers programs!
Sponsored by:
VSLA and VITA-Learn
Co-Sponsored by: Vermont Agency of Education