Here we are in September and it feels great! There's excitement in the air now that school is back in session, we're feeling high off of the successful production of 28 STEAM programs for Vermont libraries this summer, and weather in Vermont continues to be gorgeous!
Seven events this fall

1. Things ramp up starting with the South End Art Hop.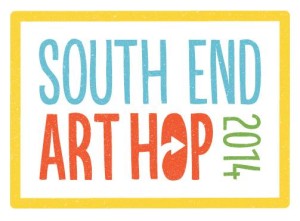 2. Vermont Code Camp is a full day event that brings together technology community members, students and profes
sionals from around Vermont and beyond. In 2013, there were sessions on a variety of software topics including programming, databases, web, business and more.
When:

Saturday,

September 20, 2014, 9am

–

6pm

Where: Kalkin Hall at the School of Business Administration on the University of Vermont campus in Burlington, VT
3. Keynote address by Neri Oxman: Material Ecology: A New Approach to Nature-Inspired Design & Engineering
2014 George D. Aiken Lecture
Hosted by the University of Vermont College of Engineering and Mathematical Sciences
Thursday, October 2, 2014 at 5:00 pm
Free and Open to the Public
UVM Ira Allen Chapel
Parking available in the Gutterson Garage after 3:30pm
The speaker:
Neri Oxman combines breakthroughs in materials science (such as 3D printing) with design principles found in nature. Imagine a skyscraper made with concrete that can breathe and grow and "think," or a chair that moves with your body.
More Information
4. Just two days later it's Champlain Maker Faire!

5. Vermont Tech Jam

Friday and Saturday, October 24 and 25
Memorial Auditorium, downtown Burlington — Free Admission
Looking for a tech job in Vermont? Want to scope out the local start-up scene? Then mark your calendar for the 2014 Vermont Tech Jam.
This two-day job fair and tech expo will gather dozens of Vermont's most innovative companies and organizations all under one roof. It's an opportunity for job seekers, career changers and students to talk with recruiters, participate in panel discussions and other programs, and find out about educational opportunities available right here in Vermont.
6. Vermont Afterschool Conference – We are offering a train-the-trainer daylong session. Join us!
STEAMy Stuff! Make, Create, Hack + Engineer
Jenn Karson, Vermont Engineering Initiative, Vermont Makers
A daylong immersion in hands-on STEAM activities with time for reflection and explorations in design thinking for educators and staff working with youth grades 4-12. Conference and registration information
7. Critical Making Discussion
We also have started a discussion about Critical Making that will likely continue in small groups. We'll have more information about that soon.