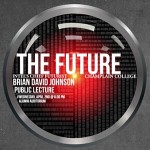 Vermont Makers is proud to sponsor a local visit by Intel's Futurist Brian David Johnson

Brian David Johnson, Intel Futurist
When: Wednesday, April 2, 2014 at 6:30pm
Where: Champlain College IDX Student Life Center Argosy Gymnasium
Don't miss the chance to hear from a nationally recognized visionary on what the world of technology will be like in 2020.
The future is Brian David Johnson's business. As the Chief Futurist at Intel Corporation, his work focuses on developing an actionable vision for computing in 2020. His work is called future casting-using field studies, technology research, trend data, and even science fiction to provide Intel with a vision of consumers and computing.
See you there!
Learn more about Brian's research and developments:
http://www.intel.com/content/www/us/en/research/tomorrow-project/the-tomorrow-project.html
http://news.cnet.com/8301-30966_3-57484451-262/intels-futurist-knows-what-tech-youll-want-tomorrow/
http://www.cbsnews.com/video/watch/?id=50155552n
http://video.foxbusiness.com/v/2681714044001/robots-made-from-your-printer