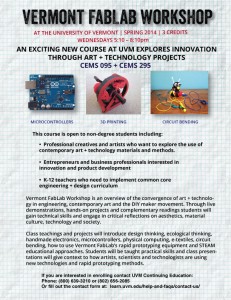 An Exciting New Course at UVM Explores Innovation through Art + Technology Projects
CEMS 095 + CEMS 295
Instructor: Jenn Karson
University of Vermont | Spring 2014 | 3 Credits
Wednesdays 5:10 – 8:10pm
Download Flyer
Vermont Training Program Grant funding is available – see below

This course is open to non-degree students including:
•  Professional creatives and artists who want to explore the use of contemporary art + technology materials and methods.
•  Entrepreneurs and business professionals interested in innovation and product development
•  K-12 teachers who need to implement common core engineering + design curriculum
Vermont FabLab Workshop is an overview of the convergence of art + technology in engineering, contemporary art and the DIY maker movement. Through live demonstrations, hands-on projects and complementary readings students will gain technical skills and engage in critical reflections on aesthetics, material culture, technology and society.
Class teachings and projects will introduce design thinking, ecological thinking, handmade electronics, microcontrollers, physical computing, e-textiles, circuit bending, how to use Vermont FabLab's rapid prototyping equipment and STEAM educational approaches. Students will be taught practical skills and class presentations will give context to how artists, scientists and technologists are using new technologies and rapid prototyping methods.
If you are interested in enrolling contact UVM Continuing Education:
Phone: (800) 639-3210 or (802) 656-2085. Click the "learn more" button below to ask a question.

The State of Vermont has approved the FabLab Workshop for Vermont Training Program Grant funding – yes, the credit course – for Vermonters work in Manufacturing, Health Care, Information Technology, Telecommunications, or Environmental Engineering. This means a 40% reduction in the cost for those qualifying for the grant.
Here is a link to more info about the grant and the application